Collection Lambert
en Avignon
5 rue Violette
84 000 Avignon
Open every day
Except Monday from 11am to 6pm.
July-August, open every day
From 11am to 7pm.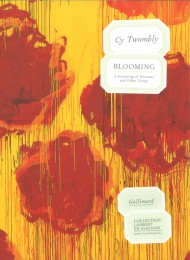 Exhibition catalog
Blooming, A Scattering of Blossoms and Other Things
Cy Twombly
Exhibition catalog fully illustrated.
Text by Éric Mézil.
Design by Antoine+Manuel.
Coedited with Éditions Gallimard.
193 pages - 29 €
> Don't miss :
Exhibition
05 june > 14 oct. 2007
Cy Twombly
Blooming, A Scattering of Blossoms and other Things